Trekking in Bhutan
Bhutan has some of the best trekking in the world, with breathtaking scenery, a rich Buddhist culture, friendly people, and few other visitors.
Weather
The difficulty with trekking here, aside from the high cost ($200/day), is the weather. Unlike Nepal and Ladakh, the windows for good high-altitude trekking in Bhutan are short: about 3 weeks in April and 3-4 weeks in October. Although the official season extends longer, you have the best chances of clear weather and little snow in the second half of April or the first three weeks of October. There are several low-altitude "winter treks" however, which can be walked in other seasons.
Difficulty
Although most of the treks themselves are not difficult, the high altitude and difficulty of reaching rescue services means that especially the treks through the High Himalayas are not for the faint-of-heart. However, if you have saved up some money, and are in good shape, you will have one of the best experiences imaginable.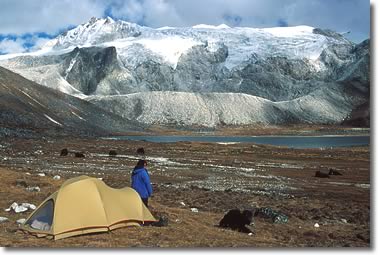 Routes
The Department of Tourism of Bhutan presently has eleven trekking routes, ranging in length from 3 to 23 days. Details for all treks are described in Bhutan: a trekker's guide, by Bart Jordans. On this site I have only posted descriptions of a couple of the most popular treks.
Aside from multi-day treks, there are ample opportunites for day hikes around Thimphu and Paro. See the section on Day hikes around Thimphu for details.