Jhomolhari-Laya-Gasa Trek
Two weeks through the high Himalayas
The Jhomolhari - Laya - Gasa trek is an extension of the classic Jhomolhari trek. It starts at Drukyel Dzong near Paro, and leads via Jhomolhari basecamp to Lingzhi. There the route leaves the Jhomolhari trek, and heads east along the Tibetan border to Laya. From Laya the trek turns south to Gasa and Punakha. Description.
Days required
14-16 days. 13 days of trekking, mandatory rest day in Jhomolhari Basecamp for acclimitization; rest day in Laya (beautiful day hikes) and Gasa (hotsprings) reccommended.
Altitude
You will spend seven days above 4,000m.
Highest passes
Nyele La, 4,890m; Jhari La, 4,747m; Sinchu La, 5,005m.
Highest camp
Robluthang, 4,200m.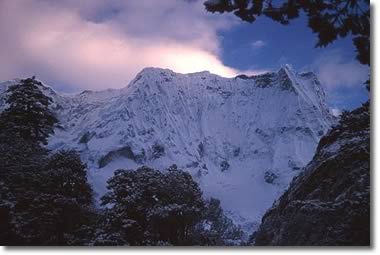 Difficulty
The trail itself is not difficult, but because of the high passes, and high camps there is a serious risk of altitude sickness along this route. Weather can be bad on the passes at any time of the year. In spring the snow clears late, and in fall early snow storms are not uncommon.
Longest day
Robluthang to Limithang, approximately 7-8 hours. You climb from 4,200 m over a 5,005m pass, and down again to 4,140m.
Best season
The windows for good trekking in Bhutan are extremely small: about 3 weeks in April and 3-4 weeks in October. Although the official season extends longer, you have the best chances of clear weather and little snow in the second half of April or first three weeks of October. We did the trek in late April/early May, which is the very end of the best season. Any later would have meant more rain and poor views. But the flowers would have been at their best, though.
Resources
For a complete trail description see Bhutan: a trekker's guide, or a shorter description in Lonely Planet's Bhutan Travel Survival Kit.
A 1:50,000 trekking map for the first part of the trek, up to Jhomolhari basecamp, is available from the Tourism Authority of Bhutan for Nu. 300.