Jhomolhari - Laya - Gasa Trek
Two Weeks through the High Himalayas
Trek description
There are many trekking companies in Bhutan, but we did not know which company offered the best quality service at a good price. After we had been to see some of the companies, we decided to go with a reliable person whom we knew, and who had just started a new trekking company. For the trek, we were provided with a cook, a guide and two people to look after the horses and yaks. We had seven horses from Paro to Jhomolhari, six yaks from Jhomolhari to Laya, and five horses from Laya to Punakha. They carried all of our baggage: food, camping equipment, our own luggage, and the staff's gear.
We started by walking from Drugyel Dzong to the army camp at Gunichawa. Here the trekking permits had to be produced. The trail was littered with stones sticking out of the mud, but was generally good. We camped just beyond Sharna Zampa at 2,870m.
The next morning it was still raining; by the time reached our camp for the day, the rain had turned to snow. Walking on the slippery stones and the muddy trail through the forest was a bit difficult. We reached Thangthangka (3,630m) after six hours.
The walk from Thangthangka to the next camp in Jangothang was pleasant and short. Along the way we stopped in Dangochang to visit a friend of ours, who is working for the National Park. We had brought his mail and even some batteries for his solar system. We installed the system for him in the afternoon. Our friend had a cute little white dog, which decided to follow us all the way to Punakha. The actual walk took only about four hours.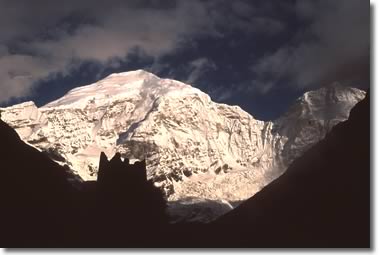 We stayed at Jangothang for two nights to acclimatize. The next morning we made a difficult excursion up to and along the ridge behind Jhomolhari base camp. We climbed for four hours to about 4750m. There was no trail and everything was covered with snow, but the breathtaking views are worth the effort. The climb up was extremely steep, because we insisted on taking a difficult route. At the top the northern horizon is dominated by the masses of ice and rock making up Jhomolhari (7,314m), Jichhu Drake (6,989m), and Tserim Kang (6,789m).
To the south, lower mountains jut up from the Jangothang valley as far as the eye can see. On the way up, we saw plenty of blue sheep, Tibetan snowcocks, and Himalayan griffons.
The sixth day was not long, and the weather in the morning was good, but in the afternoon it was snowing heavily, with strong winds. We had to cross a high pass, Nyile La (4,890m) between Jangothang and Lingzhi. On the way we saw many marmots and more griffons. Our camp was a short distance before Lingzhi, at 4010m. From here we had spectacular views of Tserim Kang.
On day seven, walking between Lingzhi and Chebisa, there were many interesting sights: Lingzhi Dzong, Lingzhi village, and Goyul village at 3870m. That village has a different style of stone house, which is unusual in Bhutan. We visited a family there; their kitchen and bedroom were in separate buildings. The houses were neat and nicely decorated. We camped in Chebisa valley at 3880m, one hour past Goyul. It was very windy in that village, especially in the afternoon. Many people came to see us, because few tourists pass there. Most of the villagers were Tibetans, who had fled Tibet. They still run a lively smuggling trade with their old homeland.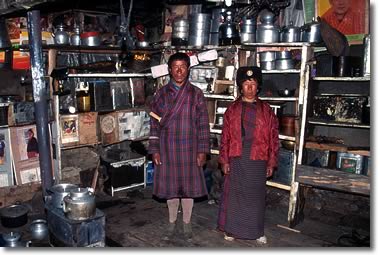 The next morning we made a steep climb up to the ridge behind Chebisa. On the rocks near the top there were again many blue sheep. From there, we walked down through a thick rhododendron forest until our next camp in Shakshepasa at 3980m. This was another short day, and we reached camp by lunch time.
The following morning, day eight, we had to climb up again to a pass of 4747m at Jhari La, and from there down into a dense forest of rhododendron and cedar.
We were supposed to see a big snow peak, Gangchhenta (Great Tiger Mountain, 6,840m), and the top of Jhomolhari, but they were covered in clouds. Before we reached our camp at Robluthang (4,160m), we met three local Layap ladies sitting near the river. They are different from other Bhutanese people, wearing dresses made from yak hair, long hair, and strange bamboo hats.
On the ninth day, we had to cross Sinche La at 5005m, the last and highest pass on our trek. It was a long and hard day. After going down via a rocky trail and a short walk on a good trail through a beautiful cedar forest, we stopped for the night in Limithang (4,140m).
The next morning, the clouds lifted just long enough to see Gangchhenta towering above the camp site. We started walking a little later than usual, because the walk from Limithang to Laya was short and easy. Laya village has a simple hospital, school, and interesting houses. The Layaps were friendly, and eager to sell their bamboo hats. We stayed in Laya for two nights. The second day we only went for a short five hour hike to the ridge above Laya. From the top the views of Masang Gang (7,165m) and the Tibetan border were magnificent.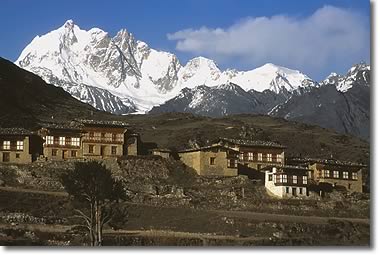 After a rest day in Laya, we were ready to walk again to the next camp in Koina (3,050m). This day was not too long, and easy. There was an army camp on the opposite side of the valley below Laya, where the guides register the names of the trekkers. It was nice to walk on a good trail through the forest, but unfortunately it was hot in the afternoon. In Koina we were lucky this time; it was not as muddy as usual. During the rainy season it is very muddy and there is a lot of horse dung around the camp.
Between Koina and Gasa we walked rather further than the previous day, and the trail went down steeply after crossing a ridge at 3,900m. On the way down, we saw Satyr Tragopan, Himalayan Monal, and Blood Pheasants. They look like chickens, and all of them have beautiful colours. In Gasa (2,770m), we went to see Gasa Dzong and the bazaar down the hill. After looking around in Gasa village, we camped for two nights at the Gasa Hot Springs for a rest and a bath in one of the hot pools. Even the dog got a cleaning!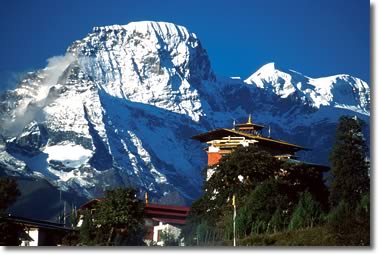 After Gasa Hot Springs, we had a short walk to our last camp in Damji. It was a pleasant walk, except for the many leeches on the ground, which had come out after the rain the previous night. Early in the morning, we walked another three hours to meet the car at the end of the road near Trashitang. Our friend's dog, which we had named Katu (white), was still with us. We took him in the car, but he had never seen a car before, so he got carsick immediately.
Finally, we left him behind in Punakha. It was sad to see him go, but it was still a long drive to Thimphu
Although we had some slight problems, we really had a great time and enjoyed the beautiful scenery. We were also happy with the food which we had on the trek. Back home, we like to think again about our 16 days trip and everything we saw. We still remember Katu, and wonder where he is now.