The Snowman Trek
Third Week
We started the third week with a steady climb, up to Rinchenzoe pass at 5,327 meters, which was the highest pass on this trek. We had good weather and excellent views from the pass in all directions. From the pass we walked down to Chukarpo (4,609 m) for four hours with a lot of rocks on the trail. It was snowing a bit in the afternoon when we reached the campsite, so we went down a bit further to ,400 meters. This campsite was much better than the one at Chukarpo itself.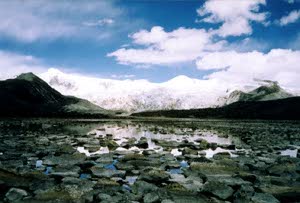 On Tuesday morning our small group continued walking down along the river. After two hours we finally saw trees, rhododendrons everywhere, and also many birds, including some blood pheasants. The path was mainly covered in boulders until it began to climb quite steeply through junipers. We camped near the final pass of this trek, beside a beautiful lake at Thampe Tsho (4,350m).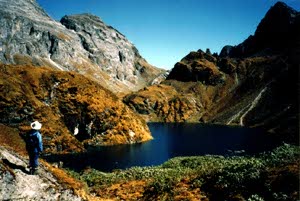 The next day we went up to the final pass, Thampe La, at 4665 meters. From there the trail dropped steeply down for five hours until we reached the campsite in Maurothang at 3610 meters. There were two lakes, and a beautiful waterfall on the way down. One of the lakes is called Um Tsho, locally believed to be sacred after Pema Lingpa found a number of religious treasures in it. The lake was deep blue, and very clean.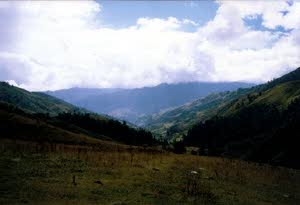 On Thursday we continued gradually down over the rocks through bamboo thickets and broken trees. We stopped for lunch and changed the yaks to horses in Sephu, because it was too hot for the yaks to go down further. We had less luggage than before, so they changed to only five horses. Sephu village has a school, and numerous farms, and the people have begun the construction of a community road from the lateral road at Nikka Chhu Bridge. We stayed near the bridge on the lateral road, and waited for the car from the trekking company to pick us up the next morning.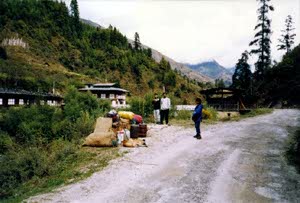 The last day we only waited for the car, and drove back to Thimphu. I was happy to go home, have a shower and meet friends again. We were lucky that most of the time we had good weather, and good food, even though I was always concerned about the next culinary adventure. Everything went well, even though it was a long and tough trek, but we completed it without a hitch. We also enjoyed the company of our guide, cook, and helper on this trek.