The Snowman Trek
First Week
The Snowman trek is the most difficult trek in Bhutan, because one has to walk and camp at high altitude for nearly three weeks. As long as one has no problems with the high altitude and the weather is good, it is not a particularly difficult trek. But, if something were to happen along the way, someone would have to carry you down to the nearest house, or try to find a telephone to get a helicopter from Thimphu. Both are often several days' walk. Initially, many people planned and wanted to go with us on the trek, but in the end they all bailed out and only two of us went.
Early in the morning on the first of October, leaving, we drove from Thimphu to Tashithang. Tashithang is located 30 km north of Punakha along a dirt road. Our trek started with a short hike from there (1800 meters) to Damji. It wasn't a long walk, and we already knew the trail from Tashithang to Laya, which we walked in the spring. We were lucky to have good weather; the trail was dry, and so there were no leaches on the trail. Our party included eleven horses, a guide, a cook, a cook assistant, and two horsemen along with us until Laya. They also provided a dining tent, a kitchen tent, and a toilet tent for us.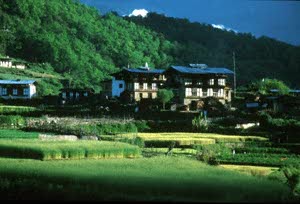 The next day the trail was not difficult, even though it was hot. Endang was lucky to see a deer on the trail. The horses were much slower than us, so we still had to wait for our horses for an hour after we reached the campsite in Gasa.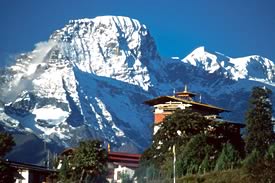 On Tuesday we left at exactly the time we wanted to. At 8 o'clock in the morning we started walking to Koina, but our guide and cook left 30 minutes later. They walked very fast, and could always catch up with us within a few hours. We were jealous when we heard that they saw a black bear on the trail. The trail was slightly difficult because of a landslide, and we had to walk up and up until reaching Bele La at 3900 m. From the pass we followed a steep and muddy trail down to Koina. There were a lot of bamboo thickets and numerous Rumex plants growing near the river. The campsite at Koina is notorious in Bhutan, because of the thick black mud and ample horse manure surrounding a small stone hut. There are only a couple of tiny spots to pitch your tent, or you can share the smoke-filles hut with the rats.
Wednesday morning was a short and easy walk. From Koina we had a short steep climb up over a spur, and from there an undulating trail to the Army camp just before Laya (3400m). We met many Layap people who were going to Gasa to dance at the Gasa Tshechu. This time we had lunch at the campsite, though we usually stopped for lunch at 12 o'clock somewhere along the way, at a spot with a beautiful view. It was early and still sunny when we reached the campsite. After eating our lunch, we washed the clothes that we had been wearing for four days!
Thursday was a rest day, but early in the morning Rogier went up the mountain near our camp to about 4,300 meters. The guide went to Laya to get some yaks, because the horses that came with us had already gone back to Damji. Horses are not strong enough to walk and carry the heavy loads up the rest of the trek.
The cook stayed in camp with us, and I dried our clothes on the shrubs, and had a cup of tea while writing. After Rogier came back, the cook prepared fried eggs, porridge, beans, and toasted bread with peanut butter jam for our breakfast. Every day the cook prepared a different menu. I saw there were a lot of fresh vegetables, boiled chicken and pork, eggs, and biscuits etc., when they were unpacking, and packing again. We also washed our hair, and cleaned ourselves with warm water in the sun, and enjoyed the views.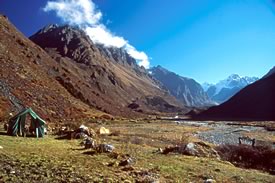 Friday morning our party left the army camp with eight yaks, and retraced the trail from the day before yesterday, until reaching the turnoff to the Rhodophu trail. The trail was muddy, and rough with a lot of boulders, and went up steeply. It passed through a large forest that had been burnt by yak herders who wanted to turn it into pasture. After five hours walking we reached Rhoduphu campsite (4,300m), surrounded by mountains. Our camp was in a pasture near the river, which was fed by a glacial lake near Tshenda Kang mountain (7,000m). Nearby was a yak herder's stone house with a wooden roof.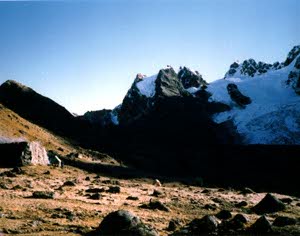 The trail from the campsite was difficult; we climbed up to a pass on a rocky trail through dwarf rhododendron bushes. We could not see all of the mountains from the pass (4,900m), because it was cloudy, and we started late. The yak herder also had to find one of his yaks on the top of the mountain. After the pass we walked at the same elevation for three hours, and finally reached the campsite at Narethang at 4,934 meters on a small plateau beneath the 6.395-meter peak of Gangla Karchung. This time we saw many blue sheep, and five Tibeten Snowcocks on the slope above the trail. There were also some cute blue birds, called Grandana.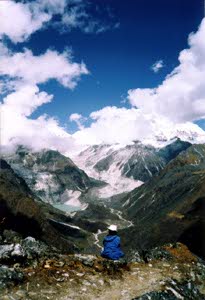 On Sunday morning it was extremely cold when we had our breakfast. We quickly set off and climbed again to Karchung La pass at 5230 meters. From the pass we saw three glacial lakes under the peaks of Gangla Karchung, Jejekungphu Gang (7300m), and Tsenda Kang(7100m). It was too soon to climb to 5200m for me, so I was not feeling well, and we walked quickly to the next campsite, which was down in the Tarina valley at 4020 meters. The trail was difficult, going down steeply through a rough moraine. Parts were dreadful with lots of rhododendron roots, and slippery mud. Once we got below 4500m, I felt fine again. In retrospect, we should have spent our rest day at Rodenphu, not in Laya. That would have allowed us to acclimatize better.That night it rained for the first time on the trek.
Intro | Page 1 | Page 2 | Page 3